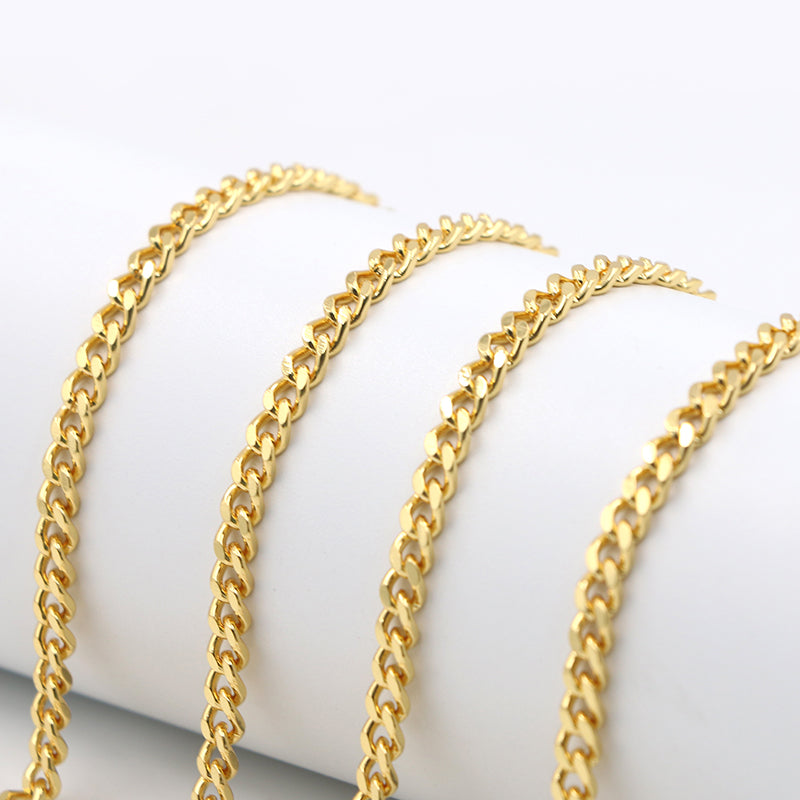 15 Types of Chains for Men and How to Rock Them in 2023
In the ever-evolving world of men's fashion, one accessory stands the test of time – the chain. From hip-hop icons to modern fashionistas, chains have been an essential part of men's style for decades. As we usher in 2023, it's time to explore the fascinating world of chains, which range from classic to avant-garde. So, whether you're a rap superstar or a guy next door, here are 15 types of chains for men and how to wear them with panache.
1.
The Classic Cuban Link:
The Cuban link chain is the OG of men's jewelry. It exudes timeless charm and can be worn with any outfit, from a crisp white shirt to a casual tee. Think Al Pacino in "Scarface," minus the whole criminal empire thing.
2.
The Rope Chain:
The rope chain is for those who want to make a subtle yet bold statement. It's versatile, offering a touch of texture that complements everything from turtlenecks to leather jackets.
3. The Figaro Chain:
The Figaro chain is a Mediterranean masterpiece. It's characterized by its distinctive pattern of smaller, round links interspersed with longer, oval ones. A Figaro chain paired with a linen shirt and sunglasses screams "Italian summer."
4. The Box Chain:
With its sleek, squared-off links, the box chain is a favorite among minimalists. It's perfect for those who want to keep it low-key but stylish.
5. The Franco Chain:
The Franco chain, also known as the snake chain, offers a slick and smooth appearance. Ideal for dressing up or down, it's great for making a statement without screaming for attention.
6. The Bead Necklace:
Channel your inner surfer with a beaded necklace. These can be made of various materials, from wooden beads for a laid-back vibe to metal beads for an edgy look. Pair with a graphic tee for that casual beachy charm.
7. The Dog Tag Chain:
Pay homage to the military trend with a dog tag chain. Don't worry; it's not just for those in uniform. Pair it with a bomber jacket, and you'll look like a rockstar, not a recruit.
8. The ID Bracelet:
If you're not into the whole "chain around the neck" thing, an ID bracelet can be your wrist's best friend. Engrave it with your initials for a personal touch.
9. The Vintage Pocket Watch Chain:
Channel your inner steampunk aficionado with a vintage pocket watch chain. Wear it with a waistcoat or a three-piece suit for that Sherlock Holmes flair.
10. The Layered Look:
Mix and match different types of chains for a layered look that screams confidence. Pair a chunky chain with a more delicate one to add dimension to your outfit.
11. The Statement Pendant:
Elevate your style game with a statement pendant. Whether it's a cross, a gemstone, or a unique design, it's a surefire way to turn heads.
12. The Ankle Chain:
Want to step up your accessory game? Try an ankle chain. It's a quirky way to show off your fashion-forward sensibilities. Rock it with shorts and low-top sneakers.
13. The Wallet Chain:
The wallet chain is making a comeback, and it's more stylish than ever. Attach it to your belt loop and let it hang free – it's not just for protecting your wallet anymore.
14. The Bolo Tie:
For those who want to infuse a bit of cowboy cool into their look, the bolo tie is a game-changer. Pair it with a crisp shirt and jeans for that Western charm.
15. The Body Chain:
Last but not least, the body chain adds a dash of mystique to your style. Wear it over a bare chest or a deep V-neck shirt for a daring look.
Now that you've got the lowdown on the 15 types of chains for men, it's time to unleash your inner style maven. Remember, there are no hard and fast rules – experiment, mix and match, and find your signature chain style for 2023. Whether you're going for a classic, rugged, or avant-garde look, the right chain can transform your outfit and elevate your confidence. So, embrace your inner fashion icon, and let your chains do the talking!