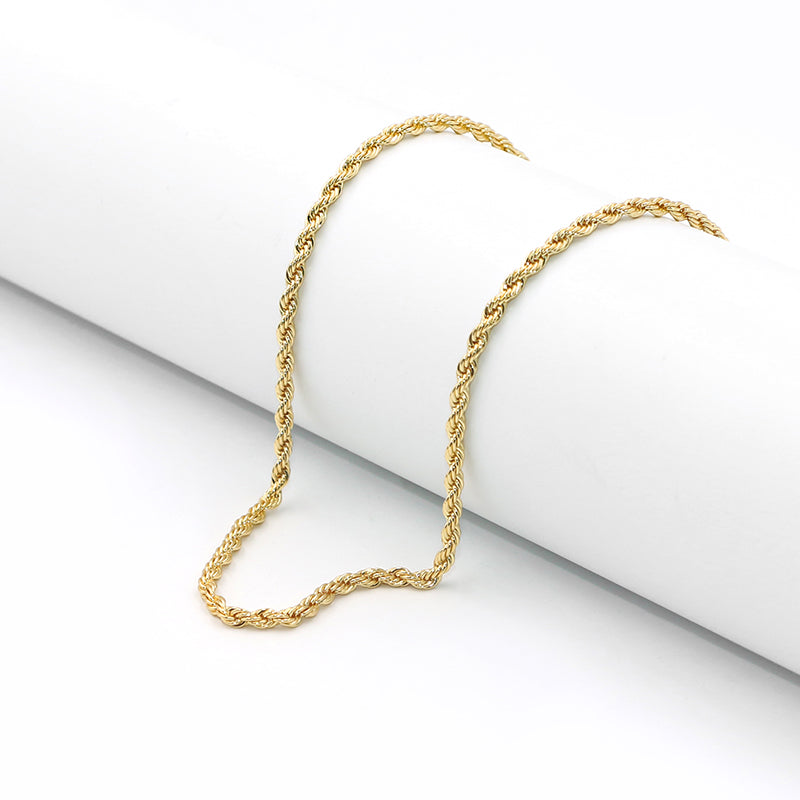 Accessorize in Style: 10 Types of Chain Necklaces Every Jewelry Lover Should Know
Jewelry has the power to transform an outfit, and chain necklaces are a timeless favorite among fashion enthusiasts. Whether you're a minimalist or someone who loves to make a bold statement, there's a chain necklace for every style. In this blog post, we'll explore 10 types of chain necklaces that every jewelry lover should know, each offering a unique charm and versatility.
Cable Chain: The Classic Elegance The cable chain is a timeless favorite, featuring interlocking oval links that create a simple yet sophisticated look. It's perfect for everyday wear and can be easily paired with other necklaces for a trendy layered effect.

Figaro Chain: A Touch of Italy Originating from Italy, the Figaro chain is characterized by its alternating pattern of flattened links. This versatile chain is an excellent choice for both casual and formal occasions, offering a touch of Italian charm to any outfit.

Rope Chain: Bold and Beautiful With its twisted oval links, the rope chain is a bold and luxurious choice. Its unique design adds a touch of drama to any ensemble, making it an ideal accessory for special events or evening wear.

Box Chain: Sleek and Modern The box chain features square links connected seamlessly, creating a sleek and modern appearance. This type of chain is popular for its durability and ability to complement a variety of pendants, making it a versatile addition to any jewelry collection.

Snake Chain: Sensual Sophistication The snake chain is known for its smooth, sleek appearance, resembling the skin of a snake. This type of chain drapes elegantly around the neck, creating a sensual and sophisticated look that works well with both casual and dressy outfits.

Curb Chain: Bold and Chunky The curb chain is characterized by its twisted, symmetrical links that create a bold and chunky look. It's a statement piece that adds a touch of edginess to any outfit, making it a favorite among those who love a more robust style.

Singapore Chain: Delicate and Dainty If you prefer a more delicate option, the Singapore chain is an excellent choice. Its twisted links create a unique texture that adds a touch of elegance to any neckline, making it a perfect choice for everyday wear.

Franco Chain: Contemporary Cool The Franco chain is a modern and stylish option, featuring interwoven links that create a flat and smooth appearance. This chain is a favorite among those who appreciate contemporary designs and want to make a fashion-forward statement.

Beaded Chain: Playful and Youthful Add a touch of playfulness to your jewelry collection with a beaded chain. This type of chain features small beads spaced evenly along its length, creating a youthful and fun aesthetic that's perfect for casual wear.

Herringbone Chain: Sleek and Shimmering The herringbone chain is known for its flat, slinky design that creates a shimmering effect. This sleek chain is a great choice for those who want to add a touch of glamour to their look, making it an ideal accessory for special occasions.
With an array of chain necklaces to choose from, every jewelry lover can find the perfect piece to complement their style. Whether you prefer classic elegance, bold statements, or modern chic, these 10 types of chain necklaces offer a diverse range of options for expressing your unique personality through your jewelry collection. So, go ahead and adorn yourself with these stylish chains, and let your accessories tell your story.