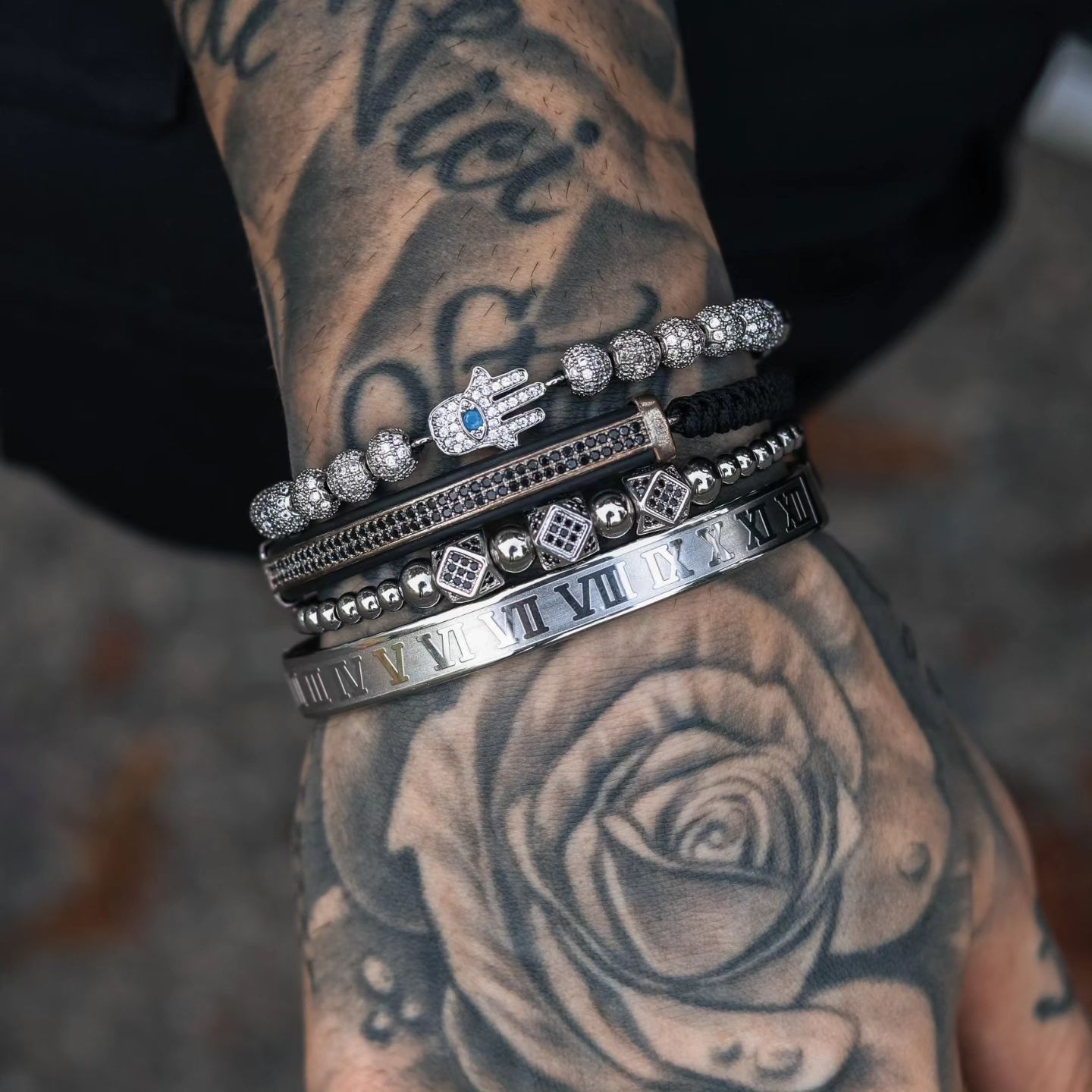 The Ultimate Guide to Men's Bracelet Styles: Unveiling Your Wrist's Potential
Your wrist is a canvas waiting to be adorned, and men's bracelets are the perfect tools to express your style, personality, and uniqueness. From classic elegance to bold statements, the world of men's bracelets is diverse and ever-evolving. In this ultimate guide, we'll explore the wide array of men's bracelet styles, helping you navigate through the options and discover the perfect wristwear for every occasion.
Beaded Bracelets: Elevate Your Bohemian Vibe

Delve into the world of bohemian charm with beaded bracelets. Whether crafted from natural stones, wooden beads, or even lava rocks, beaded bracelets add a touch of earthy elegance to your style. Mix and match different bead types to create a personalized and meaningful accessory.

Leather Bracelets: A Timeless Classic

Leather bracelets exude rugged charm and timeless appeal. From simple single-wrap styles to intricately braided designs, leather bracelets are versatile and perfect for both casual and semi-formal occasions. Choose from different leather types, colors, and closures to match your personal taste.

Cuff Bracelets: Making a Statement

Cuff bracelets are bold and make a powerful statement. These open-ended bracelets, often wider than traditional styles, wrap around your wrist, drawing attention and adding an edgy touch to your look. Experiment with different metals and finishes to customize your cuff bracelet style.

Chain Bracelets: Timeless Sophistication

Chain bracelets are a classic choice for men seeking timeless sophistication. From delicate link designs to chunky curb chains, these bracelets effortlessly transition from casual to formal settings. Explore different metals, textures, and widths to find the perfect chain bracelet for your style.

Braided Bracelets: Casual Comfort with a Twist

Braided bracelets offer a laid-back, casual aesthetic. Often crafted from materials like leather, fabric, or even paracord, these bracelets provide comfort and style in one. Mix and match colors and patterns to create a stacked, bohemian look.

Bangle Bracelets: Sleek and Modern

Bangle bracelets are sleek, modern, and often minimalist. These rigid bracelets slide onto your wrist, adding a touch of sophistication to any ensemble. Choose from different materials such as metal, wood, or even a combination for a contemporary edge.

Rope Bracelets: Nautical Chic

Rope bracelets bring a touch of nautical charm to your wrist. Typically crafted from durable materials like nylon or paracord, these bracelets are perfect for a laid-back, summery vibe. Experiment with different knot styles and colors for a personalized look.

ID Bracelets: Time-Honored Elegance

ID bracelets have a timeless appeal, often featuring a plate where you can engrave initials or meaningful symbols. Whether in leather or metal, ID bracelets offer a touch of sophistication with a personalized touch.
In the world of men's bracelets, the options are as diverse as your personal style. Experiment with different styles, materials, and combinations to discover the perfect bracelet for every facet of your life. Whether you're aiming for a laid-back, bohemian look or a polished, sophisticated ensemble, your wristwear should reflect your unique personality and make a statement about who you are. So, embrace the versatility of men's bracelet styles, and let your wrists do the talking!