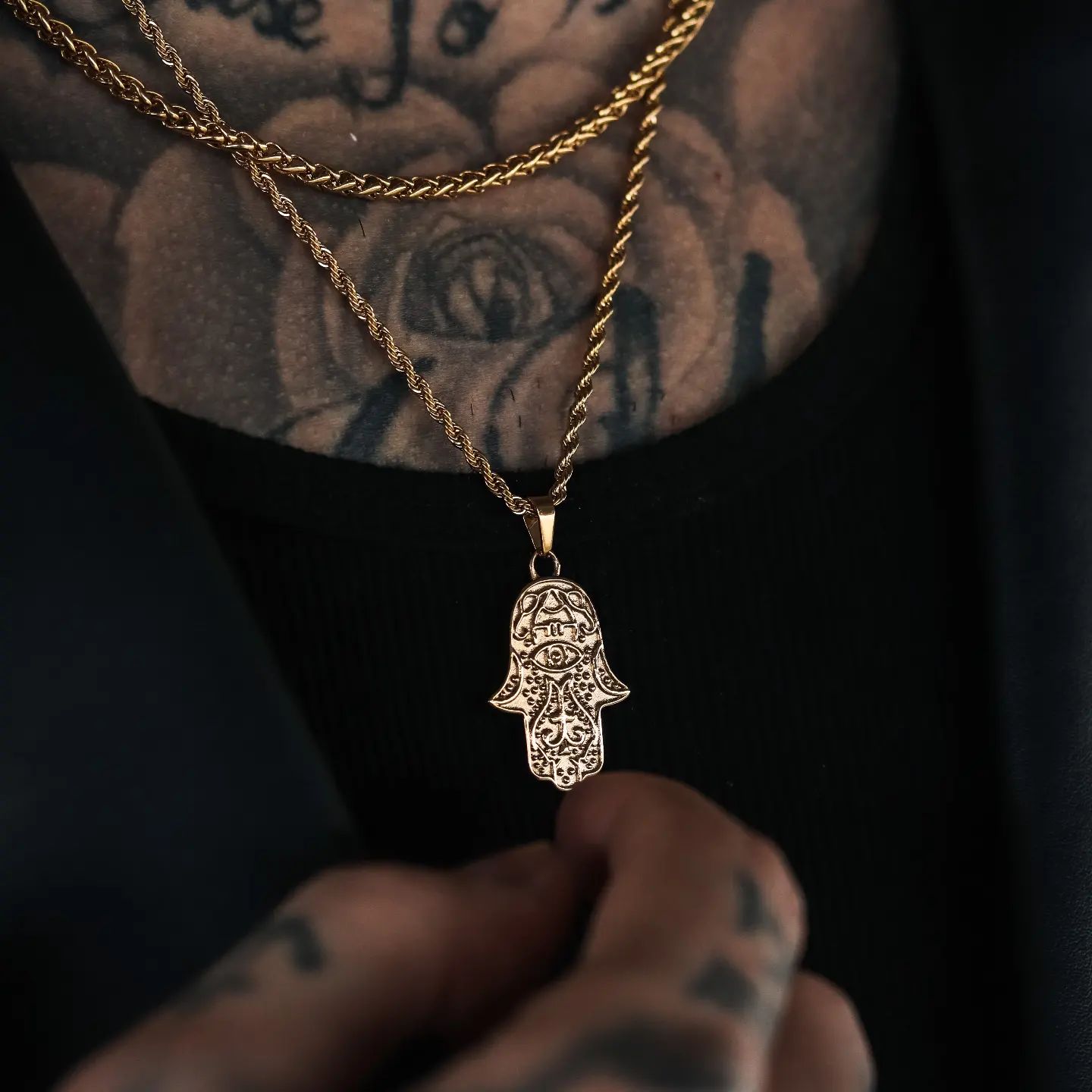 Wearable Symbols: Exploring the Deep Symbolism of Men's Pendant Necklaces
Men's pendant necklaces are more than just accessories; they are symbols that hold personal significance, cultural meaning, and often tell a story. From ancient talismans to modern emblems, the symbolism behind men's pendant necklaces adds a layer of depth to personal style. In this exploration, we delve into the rich world of symbolism, uncovering the stories behind popular pendant designs and the powerful messages they convey.
Cross Pendant: A Timeless Emblem of Faith

The cross pendant holds profound symbolism for many, representing faith, spirituality, and personal beliefs. Whether a simple and classic design or intricately detailed, the cross is a timeless emblem that transcends cultures and centuries.

Anchor Pendant: Symbolizing Stability and Hope

An anchor pendant is a powerful symbol of stability, strength, and hope. It often carries maritime significance, representing a steadfast connection to one's roots and the ability to weather life's storms.

Tree of Life Pendant: Growth, Wisdom, and Connection

The Tree of Life pendant is a symbol of growth, wisdom, and the interconnectedness of all life. Its branches reaching into the sky and roots deep into the earth embody the continuous cycle of renewal and interconnectedness.

Arrowhead Pendant: Courage and Protection

The arrowhead pendant is a symbol of courage, protection, and direction. It often represents the idea of moving forward, overcoming obstacles, and staying focused on one's goals.

Skull Pendant: Embracing the Impermanence of Life

While often associated with rebellion, the skull pendant carries deeper symbolism, representing the impermanence of life. It encourages wearers to live fully, embracing every moment and acknowledging the transient nature of existence.

Hamsa Hand Pendant: Protection Against Evil

The Hamsa Hand pendant, with its open palm and an eye in the center, is a symbol of protection against evil forces. It is believed to bring good fortune, happiness, and ward off negative energies.

Feather Pendant: Freedom and Spiritual Connection

The feather pendant symbolizes freedom, travel, and spiritual connection. Feathers have been revered in various cultures as symbols of transcendence, communication with the divine, and a connection to the spiritual realm.

Compass Pendant: Navigating Life's Journey

The compass pendant is a symbol of guidance, direction, and navigating life's journey. It serves as a reminder to stay true to one's path and values, even when faced with uncertainty.

Celtic Knot Pendant: Eternal Love and Unity

The Celtic Knot pendant is known for its intricate, endless patterns, symbolizing eternal love and unity. Each loop represents the interconnectedness of life, love, and the unbreakable bonds between individuals.
Men's pendant necklaces go beyond mere adornments; they are gateways to personal stories, cultural histories, and profound symbolism. Whether chosen for faith, protection, or a connection to heritage, each pendant carries a unique message. As you explore the symbolism behind men's pendant necklaces, consider the stories they tell and the powerful meanings they hold close to your heart. Wear your chosen symbol proudly, and let it become a reflection of your journey, beliefs, and the essence of who you are.