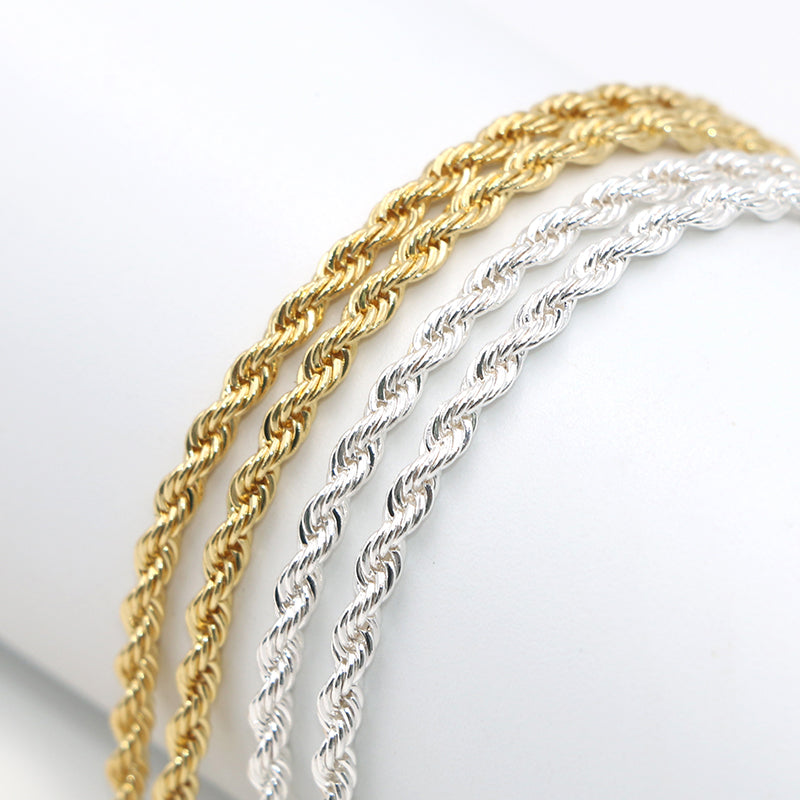 10 Best Silver Chains for Men: Linking Style and Swagger
When it comes to men's jewelry, silver chains have always been the unsung heroes of the fashion world. They effortlessly blend with any outfit, adding that touch of elegance and masculinity that every modern man craves. Whether you're dressing up for a fancy event or just looking to elevate your everyday style, a silver chain can be the perfect accessory. In this blog post, we're going to dive into the world of men's fashion and present you with the "
10 Best Silver Chains for Men
" that will not only make you stand out but also reflect your unique personality.
1. The Classic Curb Chain: The Timeless Staple   
The classic curb chain is like that reliable friend who's always got your back. It's versatile, it's sturdy, and it's never going out of style. Whether you're a rugged biker or a sophisticated office-goer, this chain is your best bet.
2. The Figaro Chain: Versatility at Its Best   
The Figaro chain is the chameleon of silver chains. Its unique pattern of three small links followed by one large link gives it a distinct look. Wear it with a suit or jeans, and you'll always look dapper.
3. The Rope Chain: When Elegance Meets Boldness   
Want to add a touch of boldness to your attire? The rope chain is your silver ticket. Its twisted design exudes confidence and style.
4. The Franco Chain: Fine Lines for a Modern Man   
   With its flat and closely woven links, the Franco chain is for the modern man who appreciates fine lines and sophistication. It's the perfect choice for those who like their style understated yet elegant.
5. The Box Chain: The Minimalist   
If you're a fan of minimalist design, the box chain will charm your way into your heart. Its geometrically perfect square links exude a sense of order and precision that can elevate any outfit.
6. The Snake Chain: Sleek and Mysterious   
The snake chain is for the man who wants to remain an enigma. Its smooth, serpentine links wrap around your neck in a sleek, understated way that's both mysterious and captivating.
7. The Herringbone Chain: Classic Elegance   
The herringbone chain is the epitome of classic elegance. Its flat, slanted links create a stunning visual effect that will have heads turning wherever you go.
8. The Byzantine Chain: Timeless Intricacy   
Inspired by ancient Byzantine art, this chain is for the man who appreciates intricate details. Its woven links add a touch of history and culture to your style.
9. The Omega Chain: Strength and Style Combined   
The Omega chain is for the man who likes his style to exude strength and resilience. With its solid, structured links, it's a bold statement piece.
10. The Wheat Chain: Nature-Inspired Sophistication   
The wheat chain draws inspiration from nature. Its links resemble stalks of wheat, giving it a refined, sophisticated look that's perfect for the man who values connection with the world around him.
In the world of men's fashion, silver chains are the unsung heroes that can elevate your style game. Each of these 10 silver chains brings its own unique charm and personality. The key to selecting the perfect one lies in understanding your own style and the message you want to convey. So, whether you're looking for a timeless classic or a modern, edgy piece, there's a silver chain out there for every man. Remember, it's not just about wearing a chain; it's about how you wear it that truly sets you apart. So, go ahead and embrace your inner style maven, one link at a time!