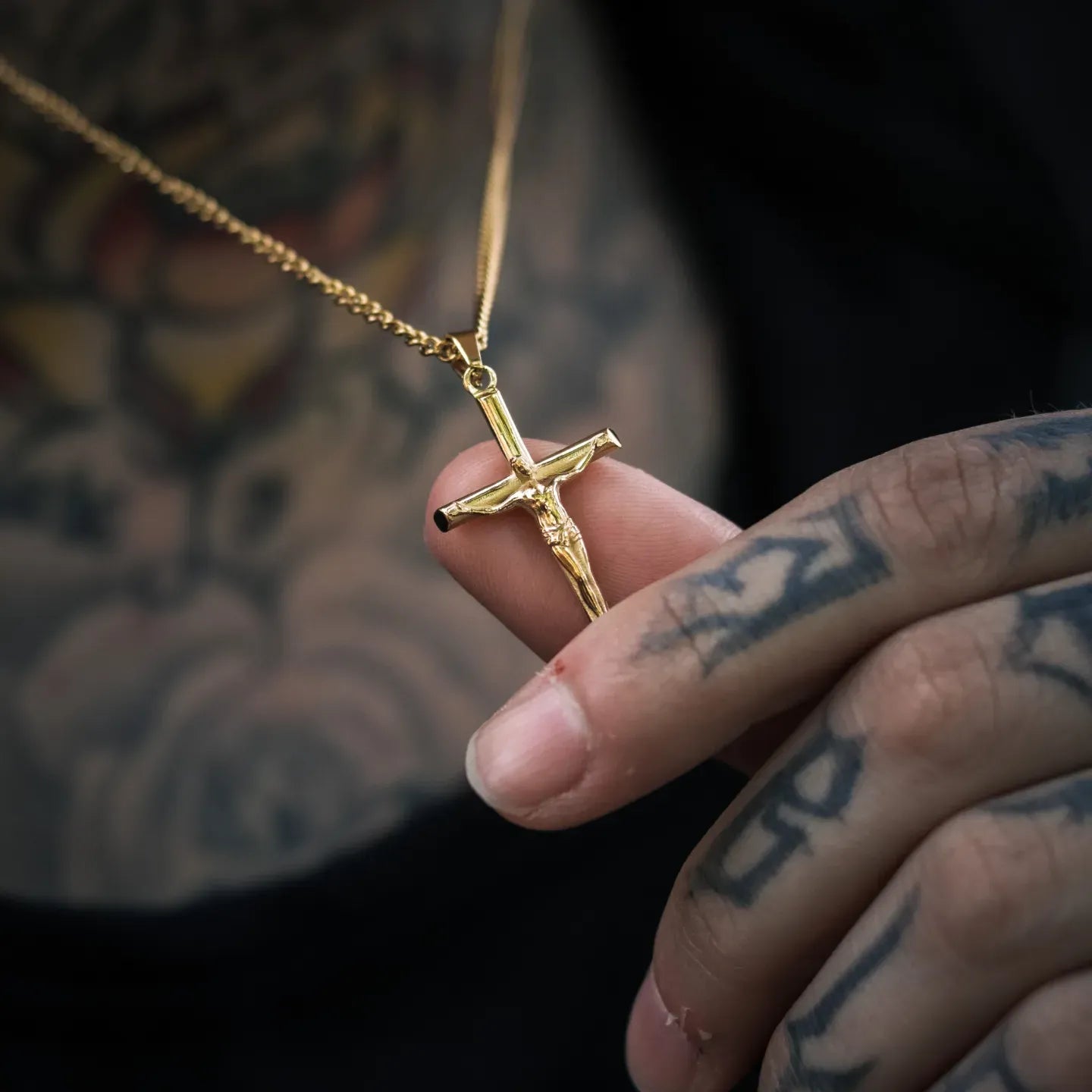 Necklaces and Pendants Unleashed: Men's Trending Styles in 2023
As the world of men's fashion continues to evolve, the spotlight on accessories, particularly necklaces and pendants, has never been brighter. In 2023, men's jewelry trends are breaking new ground, embracing diversity and self-expression. From classic pieces with a modern twist to bold and unconventional designs, let's explore the trending necklaces and pendants that are making waves in men's fashion this year.
Layered Chains: Effortless Cool Layering isn't just for clothing; it's a trend that has seamlessly transitioned to accessories. Experiment with varying lengths and styles of chains for a relaxed and effortlessly cool look. Mixing metals and textures adds an extra dimension, allowing you to express your personal style with flair.

Symbolic Pendants: Meaningful Statements Men are increasingly gravitating towards necklaces with symbolic pendants that hold personal significance. Whether it's a cultural symbol, a meaningful charm, or an engraved token, these pieces not only add style but also tell a story. Look for pendants that resonate with your values or experiences.

Minimalist Dog Tags: Timeless Appeal with a Modern Twist The classic dog tag has undergone a minimalist makeover. Sleek, simple, and often engraved, these tags maintain their military-inspired roots while adding a touch of contemporary sophistication. Wear them solo or layer them for a bolder effect.

Natural Elements: Bringing the Outdoors In Embrace the trend of incorporating natural elements into your accessories. Wood, stone, and other earthy materials are being used to create unique pendants that add a touch of the outdoors to your look. These pieces are perfect for those who appreciate a connection to nature in their style.

Medallion Necklaces: Vintage Vibes with a Modern Twist Medallion necklaces are making a strong comeback, blending vintage aesthetics with contemporary design. Whether it's a classic coin pendant or a personalized medallion, these statement pieces add a touch of old-world charm to your modern wardrobe.

Chain Link Necklaces: Industrial Chic Chunky chain link necklaces are dominating the scene, bringing an industrial and edgy vibe to men's jewelry. Whether it's oversized links or a thick Cuban chain, this trend is all about making a bold statement. Pair it with a simple outfit to let the necklace take center stage.

Geometric Shapes: Modern and Abstract Geometric shapes are adding a modern and abstract touch to men's necklaces. From angular pendants to minimalist shapes, this trend allows you to play with geometry and incorporate contemporary elements into your jewelry collection.

Layered Leather Strands: Bohemian Elegance For those who prefer a bohemian-inspired look, layered leather strands are a must-try trend. Combine different colors and textures for a laid-back, yet stylish appearance. These necklaces are perfect for adding a touch of free-spirited elegance to your outfit.

Personalized Coordinates: Wearable Memories Personalized coordinates necklaces are gaining popularity, allowing you to carry a special location close to your heart. Whether it's the coordinates of your hometown, a memorable vacation spot, or the place you met someone special, this trend adds a sentimental touch to your jewelry collection.

Mixed Metal Magic: Breaking the Rules Gone are the days of sticking to one metal. Embrace the mixed metal trend by combining gold, silver, and other metals in a single necklace. This rebellious approach to jewelry adds an eclectic and modern twist to your ensemble.
In 2023, men's necklaces and pendants are all about self-expression, meaning, and breaking traditional fashion norms. From layered chains to symbolic pendants, there's a diverse range of trends to explore and integrate into your personal style. Embrace the freedom to experiment, mix and match, and let your accessories become a powerful extension of your personality. The evolving world of men's jewelry awaits, so dive in and elevate your look with these trending necklaces and pendants.